An interview with James Marchiori
Indie interview #1
So, the Indie Interview series kicks off with James Marchiori who talks Venice, Edgar Allan Poe, why he writes & his hopes for the future…
Over to the interview with James!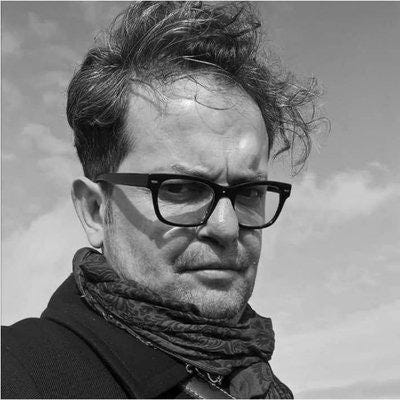 Hi James! Where did you grow up, and what were your childhood years like?

Hi, and thanks for your kind invitation! I grew up in Venice, Italy, where I was born. In my childhood, I had a lot of passions, quite often uncommon for the kids of my age. One of those was literature. And against all the odds, I still stick to it with as much ardour as I had when I started writing my first verses.
I understand that you first started writing aged 9 years old. What's the earliest piece of writing you did, that you can recall? Please tell us about it :)
I started because of an ardent passion, as I said, I had not a proper identity as a poet yet, obviously, but my early influences were so strong in my fragile mind. The very first piece was written for a local junior contest, and the title was: "Aphrodite" I recall that name, at that time a powerful source of imagination. Long before to know the origin, and, the meaning.
I understand that Edgar Allan Poe's writing was your inspiration for this early writing. How did you first come across this?
Edgar Allan Poe was the very first why! I started reading and writing before 6 years old, thanks to my grandfather.I spent a long time at my grandparents home, because of my parents work. In that environment, I found an ancient edition, leatherbound, of the complete works of Mr Poe. A book that I devoured. It was for me an initiation. A real "seal for life".
When did you first start writing your poetry, and what inspired this?
From the age of nine, I never quit, with more intense and relaxed periods; my inspiration as a dark romantic was always inspired from natural elements, transported into a vision, and then into a verse.
I understand that your first published works were the Venetian Publishing House. Tell us about the publishing process.
At that time, everything was connected to the prizes of the area, and, the cultural organisations that swarmed in town. At an early age, around my twenties, I had quite a lot of awards for poetry under my belt. I was presented to an indie editor, interested in my works, and the first poetry anthology was born. It was the time in which the computer was used as support for companies and in business, but neither social media nor online advertisement existed yet.

It seems like you have worn lots of hats, in your professional life. Tell us about some of the careers you've had.
To be honest with you, I had lots of different experiences, some of them for a very long time. Apart from my literary activity, I've been involved in the music industry, as singer and lyricist first, and then as a sound engineer and Dj after. I worked for the theatre, writing the adaptations of classics, as a movie reviewer, and I had a life long involvement with the hairdressing industry, working for fashion catwalks, various brands, and salons franchises, as a manager or artistic director.
How have you balanced your professional work with your writing?
It was the same pace route. I had to find some hours to dedicate to my writing every day, regularly, and if not, I would dedicate the night on it. Not to forget that every minute is precious. On lunch break, on the bus, on the back seat of a taxi. Everywhere, all the time.
It looks like lots of research & note-taking went into your first book, To My Beloved Heart, The Last Journey of Edgar Allan Poe. Why did you feel so passionately about telling his story?
What I really wanted from that story, was to unchain Mr Poe from the cliches that too many books are full of. It's a fiction and a celebration. There's a part of real biography and a part merely of the invention. But most importantly, a lot of Poe's dreams that in the book come true. That's a real celebration. Mainly the idea of travel and adventure. Poe was a grand connoisseur of millions of things for his time; and, sometimes, what we have at disposition is just a part of a more significant and intricate puzzle.
How long did it take to finish your 1st book, from start to finish? Please describe the process for us.
It took a couple of years, after extensive researches about his life and his times, with an all-around view, to describe where the story took place, and, their customs and traditions. Obviously the draft, and a meticulous work of editing, done with my editor and media manager, to find out the perfect use of the language fitting that era. Last but not least, hard work to find out the right cover. A long journey, but worthy.
Do you make any money from your writing? Would you like to make (more) money from your writing in the future?
Not really. Or better not as much as I would like! I hope one day to make the right money to live in writing. Not for sure to become rich and famous, but enough to be a full-time author.
Tell us about your autobiographical book :) How did that one come about?
It was a sort of therapy, of necessity. A way to recollect all happened in my life, good or bad. I thought that a lot happened throughout my past years, so I decided to digress for once and tell that story. But it's not been translated into English yet.
Which languages are your books currently available in? Do you have more Italian- or English-speaking readers, at this point?
English and Italian are my languages, and I definitely have more English- speaking readers and fans.
As a writer, do you feel your short stories and poetry have informed your fiction writing in any way, or vice versa?
I firmly believe that you need to be a poet also in prose. So, for sure, my poetry is my way to perceive the textual construction; in prose, it's probably perceptible by my readers.
What piece of writing are you most proud of?
To my Beloved Heart, for sure, as it is also among the Official Nominees for the Saturday Visiter Awards in Baltimore, USA, part of the International Poe Festival which will take place in October. I'm proud also of my poetry, some pieces won renowned prizes, and they have been read in public events.
Tell us about all of the books you've written, or are writing currently?
I published seven books so far, for English and Italian marketplaces. Poetry anthology, Poetry and short stories, and novels. I'm currently working on a new poetry anthology for the English market and two books. One is now published online by episodes on a magazine called Chanillo. The title is: "Adrian, the social media that terrified the world" a dystopian, sci-fi story, based in modern times. The other book is a detective story/crime novel, with paranormal and esoteric aspects. Something new, with very old roots, as Mr Poe instructed us!

Do you have any other writing, planned in the future?
Oh yes, I have at least another four projects locked in my drawer. I think I have a lot to do for a significant time.
What advice do you have for your younger (writer) self?
Believe. Believe. Believe. Never stop believing. In our own resources, in what we do, and why we are doing it, recall why we started and never give up. A today defeat could be a triumph of tomorrow. Be always well fitted in culture and keep searching for uniqueness, and, never for convenience. It's a long way, but we believe in magic. Don't we?
Do you have any bucket-list items / dreams when it comes to your writing?
Mainly to be a full-time writer. That's my goal.The chance to focus on my works and publications and make a living with that!
Where can we find you online, & where can we purchase your books?
Thanks to a fantastic job done by my social media manager, you can find me pretty much everywhere online, and I love to engage with people on Twitter and Instagram! Simply have a look at my website, and you'll find all the links to follow me! https://www.jamesmarchiori.com
For what concerns my books, you can buy them on Amazon, Book Depository, AbeBooks, IndieBound and many others, while very soon also the audible version of 'To My Beloved Heart' will be released!
Thank you very much for this interview! It's been a lot of fun!
---